Ms. Tammie
(Harmony Teacher)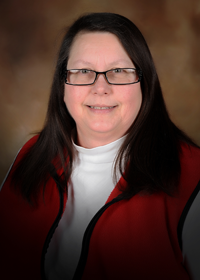 What year did you start at CFK?
I started at Campus for Kids March 1, 1980 part time, and on May 1, 1980 I went full time.
Tell about your family.
I come from a family of nine children; I am the seventh oldest. I have five brothers and three sisters, and all but one of us lives in Wisconsin. My oldest brother lives in Kings Lynn, England.
Who was/is the most influential person in your life? Why?
My mother, she went back to school in 1964 to become a nurse.
Do you have any pets?
I have one cat. She is from a group of six cats that I had, before moving to Madison. I have a new baby, a Boston Terrier, named D.C. for Durland Clyde (named after my Dad) and he is a handful right now.
What is your hobby?
I like to camp, knit, play cards, horse shoes, board games, fish, being with my family, and bowling.
Share a spiritual experience in your life.
One of my former children, who is an adult, shared her testimony at City Church prayer and worship night that her parents were not Christians when she went to Campus for Kids (CFK). She said that CFK teachers taught her about God and she still follows him today. We are still sharing about God, to the children, the same way we did for her years ago.
What is your favorite scripture?
Matthew 6:5-8
5 "And when you pray, do not be like the hypocrites, for they love to pray standing in the synagogues and on the street corners to be seen by others. Truly I tell you, they have received their reward in full. 6 But when you pray, go into your room, close the door and pray to your Father, who is unseen. Then your Father, who sees what is done in secret, will reward you. 7 And when you pray, do not keep on babbling like pagans, for they think they will be heard because of their many words. 8 Do not be like them, for your Father knows what you need before you ask him."