Ms. Rhonda
(C-Sharp Teacher)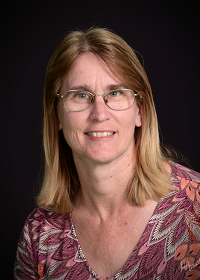 What year did you start at CFK?
I started working for CFK in November 2016 as the C-Sharp teacher.
What year did you begin your early childhood profession?
I began my teaching career in September 1990, where I worked with one year olds for four years. I took a break for seven years to raise my children. I started back in childcare after that, staying in the infant and toddler classrooms, which I prefer.
Tell about your family.
I have a daughter and a son both living in the area. My daughter is a dental assistant and my son is self employed as a delivery driver. I am also blessed with one grandson that is four years old.
Who was/is the most influential person in your life? Why?
My mother is the most influential person in my life. She has taught me to love the Lord Thy God with all my heart. She always keeps a positive attitude and taught me that if you sing or hum a song, you will keep yourself happy.
Do you have any pets?
No, but if I could, I would have a dog. I had one growing up, and so did my children; they had a Beagle when they were younger.
What is your hobby?
I enjoy reading books, doing word searches, taking walks, riding my bike, swimming and baking.
Share a spiritual experience in your life.
I was able to grow up in a loving and caring family that raised us to know the Lord. I am very active in the church I go to. Some of the committees that I am involved with are choir, fellowship, helping with the food pantry and I also serve as a deacon. Being involved with the church has taught me to serve the Lord by helping and serving others.
What is your favorite scripture?
John 3:16 For God so loved the world that He gave us His only Son, that whosever believes in Him, would not perish but have everlasting life.