Ms. Karli
(Treble Clef Teacher - 4K)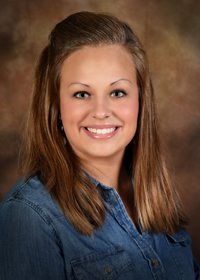 What year did you start at CFK?
I am overjoyed to join the Campus for Kids team in June 2016 as a four year old kindergarten lead teacher.
What year did you begin your early childhood profession?
CFK is my first early childhood experience. However, it will not be my first experience working with children. I taught fifth grade at a Lutheran school from 2012-2016 where I developed a passion for working with children and serving His kids.
Tell about your family.
First of all, I love my family! Family is one of the most important aspects of my life. I'm originally from Cleveland, so I frequently make the eight hour trip to visit my younger sister and her husband, as well as many more family members. This year my mom and her husband moved to Oshkosh, WI and I love being closer to her. My dad lives in Florida and we enjoy visiting the beach when we see him. I also gained a lot of family when I married my husband. His family lives in the Madison area and we get together with them all the time.
Who was/is the most influential person in your life? Why?
My mom is the most influential person in my life. I've watched her go through life's highs and lows and seen how she has always remained firm in her faith. She always shows unconditional love and supports me in numerous ways. I am who I am today because of her trust in the Lord and never give up attitude.
Do you have any pets?
I have a puggle, half pug and half beagle, named Lambeau, who is my little fur-baby.
What is your hobby?
My hobbies include crafting, DIY projects, traveling, and football.
Share a spiritual experience in your life.
This past year, my husband and I fervently sought the will of the Lord in where we would live. We asked that God would lead us and show us His plan for our lives. Ultimately, we felt God's peace in knowing we were supposed to move from the Milwaukee area to the Madison area. I am trusting God and know His plan is always higher than mine. My husband and I are enjoying watching His glorious unfolding and walking humbly with Him as He blesses us immensely.
What is your favorite scripture?
Jeremiah 29:11
For I know the plans I have for you," declares the Lord, "plans to prosper you and not to harm you, plans to give you hope and a future."